Live point-to-point audio transmissions
CasterLive Cloud sends and receives professional quality audio through any internet connection, including cellular, WiFi and LAN/WAN connections. The versatility of the software makes it ideal for live broadcasts making it a valid substitute for wired, satellite or streaming radio links. The flow is managed through a web service accessible to multiple users, allowing interaction between multiple operators.
Sending and receiving audio signal
Each instance of CasterLive Cloud can send the incoming signal from any audio device. The other stations can listen to the flow sent by the other connected users with very low latency. The fastest solution to create external live events and remote conferences, even between multiple remote parties, without the need to configure ports on your router.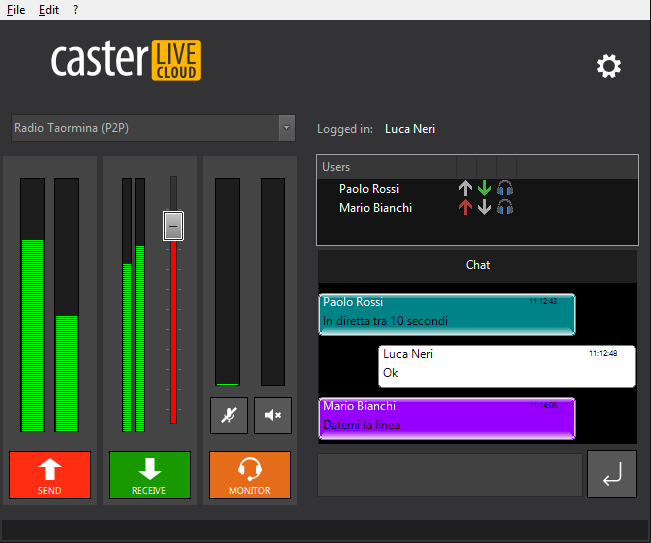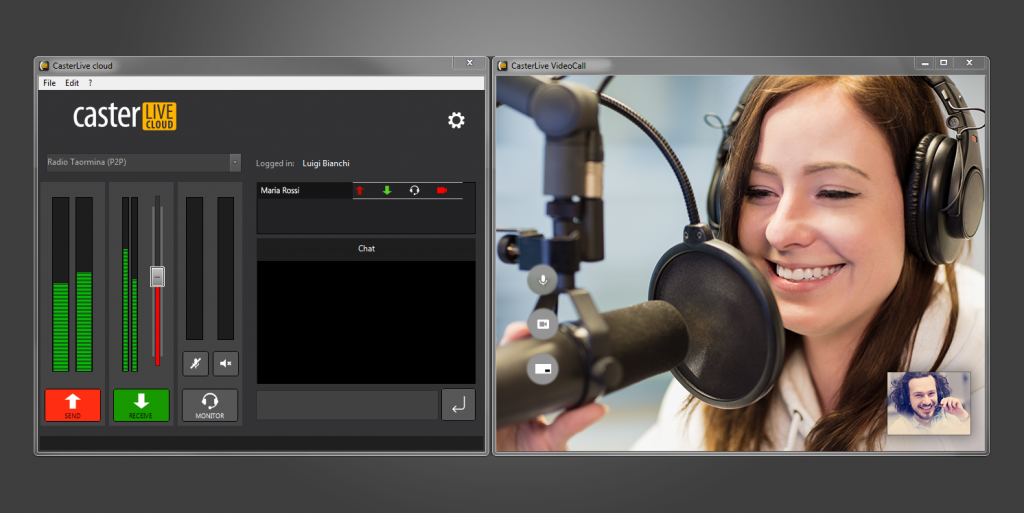 Video call and
group chat
Each instance of CasterLive Cloud can initiate a video call with another user connected to the same channel or chat with all connected users. Ideal for interfacing with colleagues and improving teamwork.
System requirements
Operating system: Microsoft Windows 7 Professional Service Pack 1, Microsoft Windows 10 Pro
Sound card: Any with WDM driver. It is necessary to have multiple inputs and outputs available to allow, in addition to sending and receiving audio, the use of intercom functions between connected operators.
Network connectivity: Internet connection in order to guarantee excellent transmission quality.
License
Support
Ultra-low latency point-to-point audio streaming
(<2 seconds).
Simultaneous audio transmission and reception from multiple locations.
Possibility to set the transmission quality.
Secondary audio channel for communications between connected operators.
Video call with operators connected to the same channel. Maximum one user at a time.
Dedicated chat for text communications between connected operators.
No need to open UDP ports in the router.
Connection to the password protected service.
Automatic reconnection in case of disconnection.