Commercials management and programming for your station
Xmanager is the software that deals with the management of radio commercials, even on several stations. It is designed to speed up and optimise the spins of radio ads, minimising product conflicts and crowding time slots.
The customer scheduling window allows you to quickly view the list of all the customers created, indicating the product category, the number of contracts and which of them are currently being programmed. From this window you have control over the creation, modification or deletion of
customers with the related advertising spots.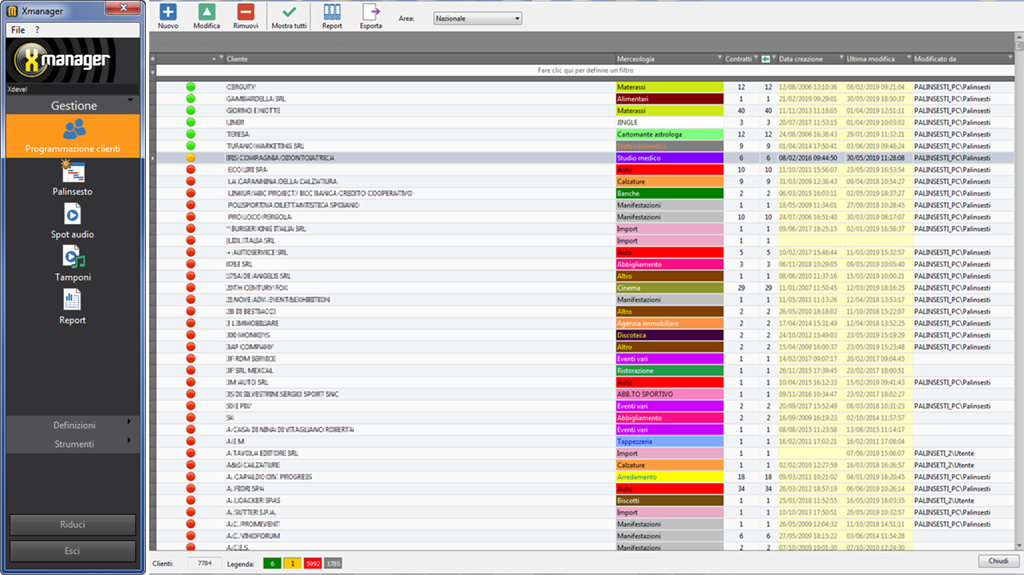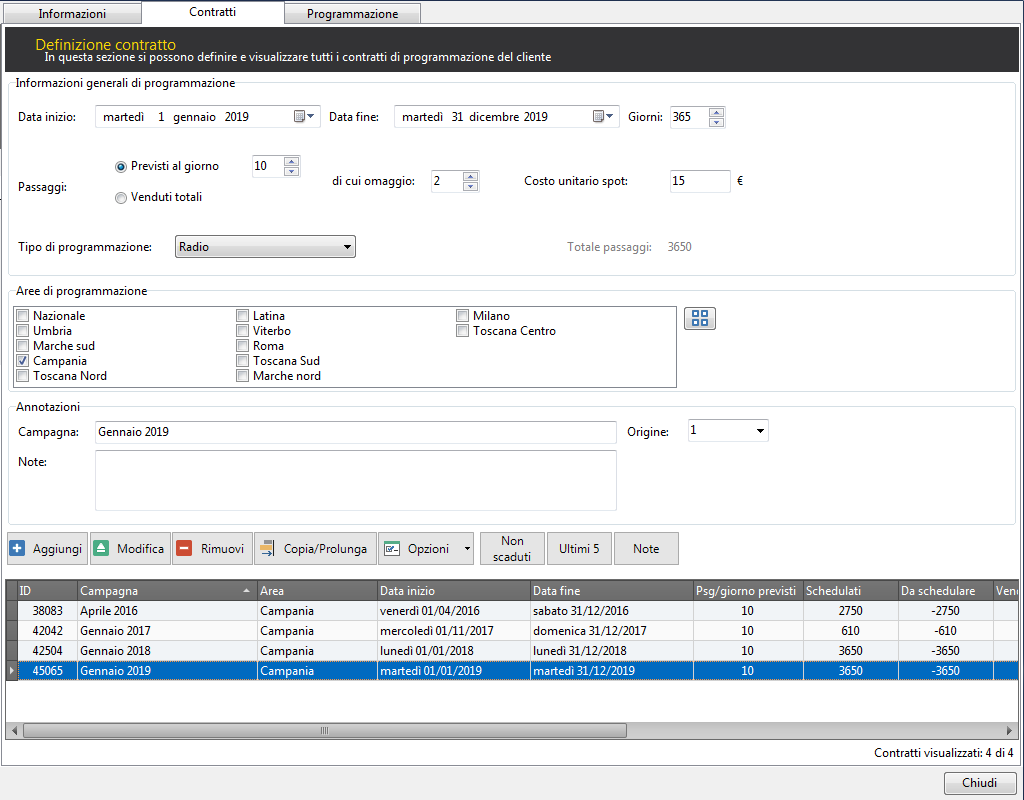 For each customer it is possible to enrich the personal information, manage the commercials campaigns, calculate the costs based on the planned steps and carry out advanced programming,
even with rotation of several subjects.
The overview of commercials planning scheduled for a given day is in a single and convenient window, from which it is possible to make changes to the advertising schedule on the go and immediately communicate these changes to Xautomation on the air.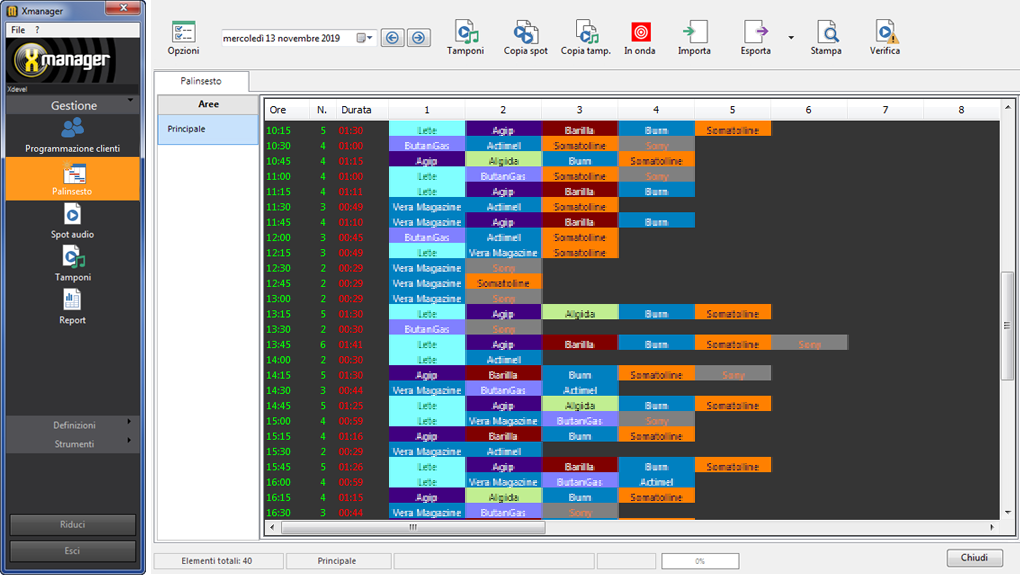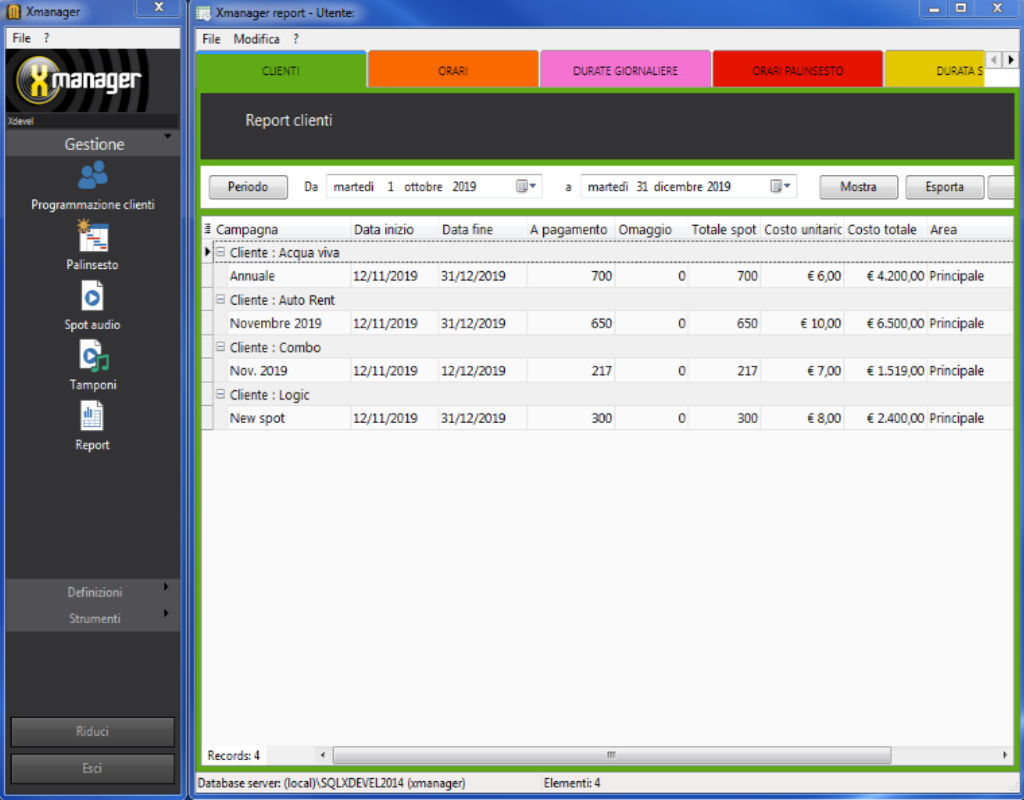 It is possible to print and export complete reports in different formats on commercials spinsand individual customer contracts.
System requirements
Operating system: Microsoft Windows 7 Professional Service Pack 1, Microsoft Windows 10 Pro
Sound card: Any, with WDM driver for cueing and editing of commercials

Monitor

: 19″ with 1920 x 1080 resolution
Secondary workstations that use Xmanager must communicate on the same network as the main
workstation and must connect to the main SQL Server database. Make sure there are no softwares
or configurations that could interfere with the regular reading of data on the network.
License
A registered copy of the software can be used on one machine only. The license is not personal and therefore not linked to an individual user, but can be used by different users working on the same workstation. In case of a license purchased for a single station, Xdevel offers a second license free of charge to be used on another machine as a back up. For security reasons, Xdevel strongly  recommends installing the second license on a back up workstation. If you want to use the software on more than one workstation, you must purchase additional licenses based on the number of machines on which you want to install and use the software.
Support
The supply of products and services is always accompanied by a high level of technical support. Support services are included in all subscription plans and are provided through ticketing system, email, telephone or through remote desktop sessions.
Centralised management of multiple stations.
Generation of commercials campaigns based on one or more spots.
Manual scheduling or with rotation and optimisation to reduce product conflicts and normalise the number of spots in the individual time slots.
Rotation of the schedule of the spot.
Scheduling on alternate days or on specific days.
Priority management of individual spots in individual clusters.
Intuitive visualisation of the scheduled spots and re-planning in different times or positions with a
simple drag-and-drop.
Non-destructive audio editing of the spot.
Printing and export of complete reports in html, doc, rtf and pdf on advertising and individual customer contracts.
Complete management of customer details and contracts.
Management of multiple areas of differentiated programming with the XmasterSplitter option (the splitting application that manages up to 24 areas of split advertising on a single workstation).
Integration of the advertising schedule with Xautomation and the most common director systems.