Multi encoder for live audio streaming
CasterX is a software encoder for streaming audio, which allows you to stream audio from any audio source. It supports connections to SHOUTcast and Icecast servers and supports flow encoding in WMA, MP3 and AAC formats, guaranteeing professional sound quality combined with very high user friendliness thanks to its intuitive interface.
Flow control, metadata and statistics
The main interface allows you to start or stop streaming and view the active encoders, the number of connected users, the maximum peak number of listeners reached and the metadata of the song on the air.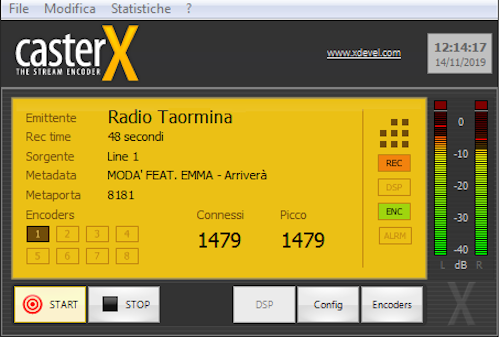 System requirements
Operating system: Microsoft Windows 7 Professional Service Pack 1, Microsoft Windows 10 Pro
Sound card: Any *, with WDM driver and at least one input available
Network connectivity: A performing and stable internet connection to guarantee excellent
transmission quality
* for optimal use it is strictly recommended to use PCI or PCIe sound cards.
License
A registered copy of the software can be used on one machine only. The license is not personal and therefore not linked to an individual user, but can be used by different users working on the same workstation. In case of a license purchased for a single station, Xdevel offers a second license free of charge to be used on another machine as a back up. For security reasons, Xdevel strongly  recommends installing the second license on a back up workstation. If you want to use the software on more than one workstation, you must purchase additional licenses based on the number of machines on which you want to install and use the software.
Support
The supply of products and services is always accompanied by a high level of technical support. Support services are included in all subscription plans and are provided through ticketing system, email, telephone or through remote desktop sessions.
Encoding SHOUTcast v.1 and v.2, Icecast (MP3, AAC, OGG).
Display of simultaneous connected users/maximum peak reached.
Up to 8 encoders for each audio stream.
Server for metadata reception (from Xautomation or from other director systems, thanks to Xuploader).
XAP LE, 2-band software audio processor (web-radio version).