Titler and message organiser and caption with integrated video palette.
XmessageTV allows you to create an archive of titles to be shown overlapping videos on TV. It is possible to create a queue of messages and sub-positions with personalised text or starting from messages received with Xsms and on social media. Each message can be accompanied by an image chosen by the user and inserted in a category retrievable automatically from the videos that are broadcast. XmessageTV is also equipped with a video palette to manually broadcast animations and banners.
Archiving and broadcasting of messages
The messages entered in XmessageTV can be divided into customisable categories. The transmitted videos can recall the categories so as to show one or more randomly chosen messages, with the possibility to select when to appear and for how long.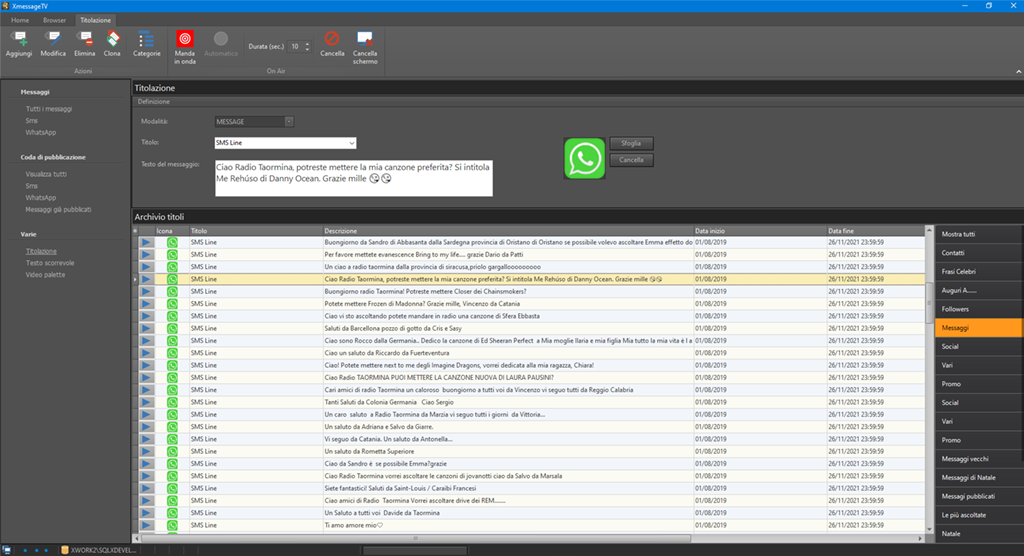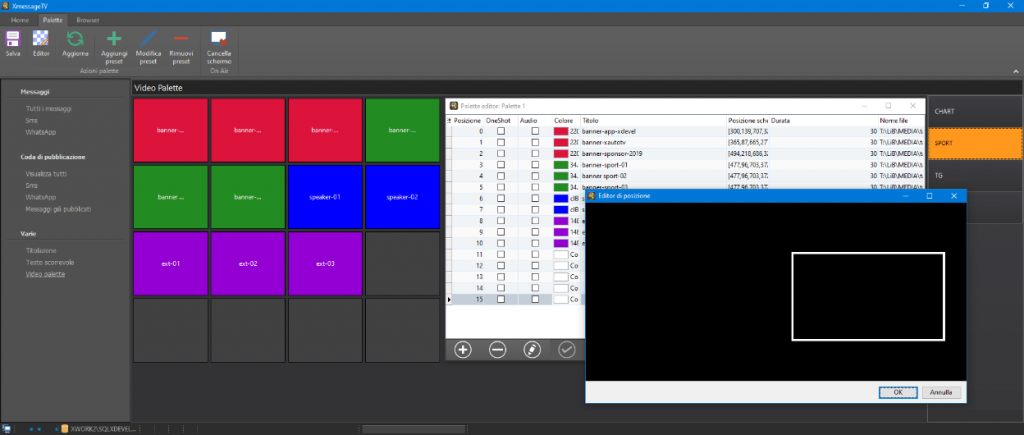 The XmessageTV video palette allows you the upload images and videos via drag-and-drop, decide the position on screen of each element and set its duration. It is possible to use multiple presets, for example to diversify the captions to be broadcast during TV programs.
System requirements
License
Support
System requirements
XmessageTV is included in all versions of Xautomation TV and available on all computers with an active Xautomation TV license.

Secondary computers that use XeditingCG must communicate on the same network as the main
computer and must connect to the main SQL Server database. Make sure there are no softwares or configurations that could interfere with the regular reading of data on the network.
License
Support
Archive text messages and categorise them for automatic broadcasting.
Possibility to create new messages starting from previously saved templates.
Possibility to modify message text on the go, display mode and image connected before broadcasting.
Ability to show messages manually with custom duration or hide already active graphics.
Controls on times/months allowed and validity dates to create automatic messages with expiration.
Video palette for manually displaying graphics from images or videos saved on PC, with the possibility of dividing the elements into multiple presets.
Support for graphics with transparent background (PNG, GIF and MOV).