Xdetect is a tool that allows the monitoring of the Xautomation flow or any incoming audio source. In case of silence detected it is possible to set the automatic restart of the system or the execution of a customised program or script. Xdetect also manages the automatic sending of email notifications when an anomaly is detected.
Xdetect shows in real time the incoming audio level and any detected silence with start date and time. From the main interface the user can pause the detector during the airing and check the last saved logs.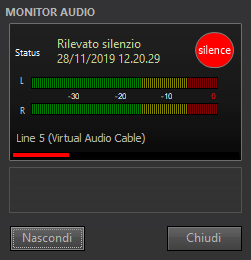 System requirements
License
Support
System requirements
Operating system

: Microsoft Windows 7 Professional Service Pack 1, Microsoft Windows 10 Pro

Sound card

: Any, with WDM driver and and at least one input to receive the signal to be monitored
Xdetect is included in all Xautomation versions and available on all workstations with an active Xautomation license.
License
Support
Silence detector on the set source.
Customisable volume threshold and silence duration.
Save of text logs on silence detection and automatic screenshot.
Automatic restart of Xautomation or custom batches.
Sending notification emails.