Xdetect is a tool that allows the monitoring of the Xautomation flow or any incoming audio source. In case of silence detected it is possible to set the automatic restart of the system or the execution of a customised program or script. Xdetect also manages the automatic sending of email notifications when an anomaly is detected.
Xdetect shows in real time the incoming audio level and any detected silence with start date and time. From the main interface the user can pause the detector during the airing and check the last saved logs.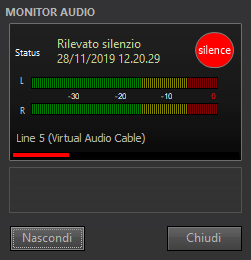 System requirements
Operating system

: Microsoft Windows 7 Professional Service Pack 1, Microsoft Windows 10 Pro

Sound card

: Any, with WDM driver and and at least one input to receive the signal to be monitored
Xdetect is included in all Xautomation versions and available on all workstations with an active Xautomation license.
License
A registered copy of the software can be used on one machine only. The license is not personal and therefore not linked to an individual user, but can be used by different users working on the same workstation. In case of a license purchased for a single station, Xdevel offers a second license free of charge to be used on another machine as a back up. For security reasons, Xdevel strongly  recommends installing the second license on a back up workstation. If you want to use the software on more than one workstation, you must purchase additional licenses based on the number of machines on which you want to install and use the software.
Support
The supply of products and services is always accompanied by a high level of technical support. Support services are included in all subscription plans and are provided through ticketing system, email, telephone or through remote desktop sessions.
Silence detector on the set source.
Customisable volume threshold and silence duration.
Save of text logs on silence detection and automatic screenshot.
Automatic restart of Xautomation or custom batches.
Sending notification emails.