Management of graphics and audio/video sources
XeditingCG is the graphical software of the TV channel. Thanks to an intuitive interface with realtime preview it is possible to draw or insert graphic elements, position and resize them on the screen via drag-and-drop and associate placeholder to automatically change the text elements drawing from the metadata of the videos on the air or automatically recall created objects. In addition, XeditingCG allows you to define multiple scenes that show TV audio/video sources from acquisition devices, screen capture and NDI.
Visual editor with real-time preview
The XeditingCG preview pane allows you to select sources, individual graphic elements or groups with the mouse alone, position them on the screen and resize them keeping the original proportions. It is possible to enable the display of the "safe area" margins to guarantee a correct display of the graphics on all the monitor.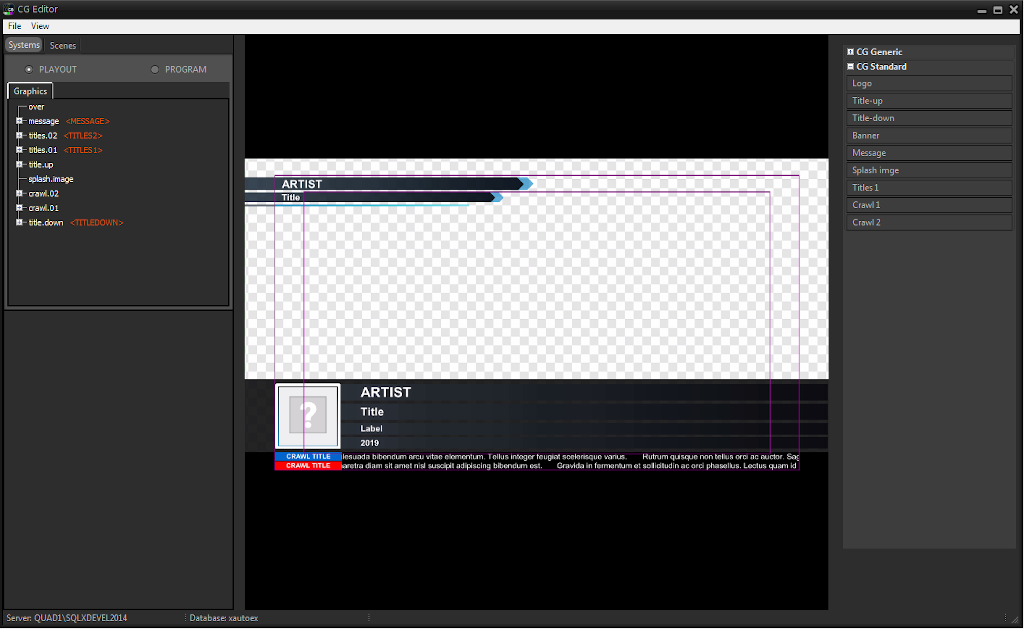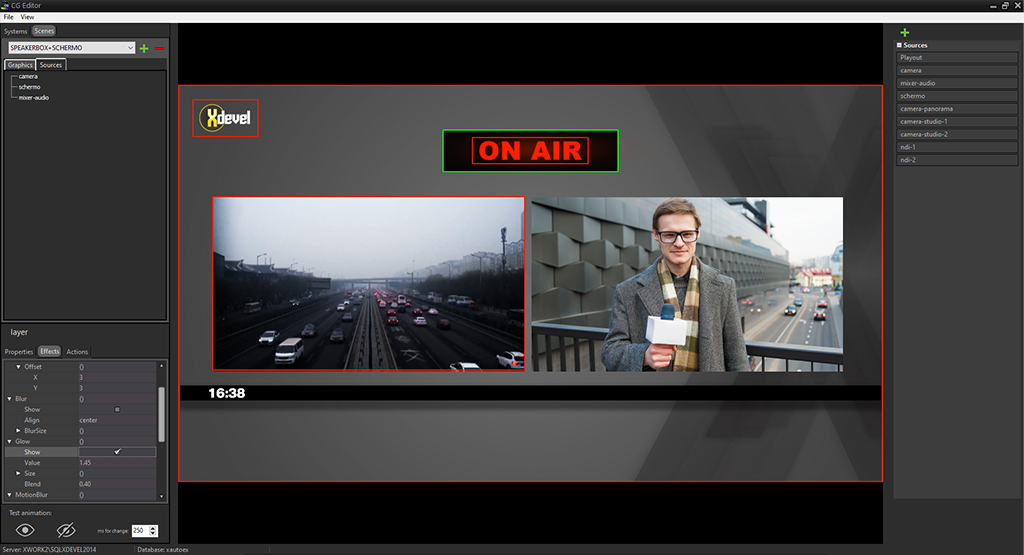 Creating scenes and audio/video sources
It is possible to create different scenes, each containing graphics and audio/video sources. Each source can be placed on the screen with the possibility of creating boxes, picture in pictures and effects. Each scene can be recalled manually or based on the videos on the air: it is possible, for example, to open the cameras facing the speakers in full screen when the TV program bases are played.
System requirements
License
Support
System requirements
XeditingCG is included in all versions of Xautomation TV and available on all computers with an active Xautomation TV license.

Secondary computers that use XeditingCG must communicate on the same network as the main computer and must connect to the main SQL Server database. Make sure there are no softwares or configurations that could interfere with the regular reading of data on the network.
License
Support
Graphic editor based on levels, with the possibility of grouping the elements.
Preview in real time and fast editing of the elements by drag-and-drop.
Support for external graphics, static or animated, in the most common formats, also with transparency (PNG and MOV).
Possibility to show graphic elements manually or based on the transmitted videos.
Creation of multiple scenes and definition of virtual audio/video sources (screen capture, NDI) or physical (SDI cards and other audio/video capture devices).
Static or animated backgrounds for a single scene, starting from image or video files.
Overlapping sources and graphic elements of the scenes, to create picture in picture.
Possibility to differentiate the graphics of the TV channel based on the scene on the air.
Management of multiple graphic templates.