Audio stream recorder 90 days
Radiolog is the software for recording audio transmissions coming from different types of sources, useful for complying with legal obligations, which require broadcasters to archive the recording of programs for 90 days following the date of their broadcast. It allows you to set the desired encoding, bitrate and audio quality, with the possibility of differentiating them in specific weekly time slots. It will also be possible to quickly and easily retrieve the archived data and listen to the audio files from any network location with high precision on the recorded day.
Stream control, recording quality and available space
The main interface allows you to start or stop recording and view the active schedule with the corresponding saving quality. It also allows you to check the space available on the destination disk.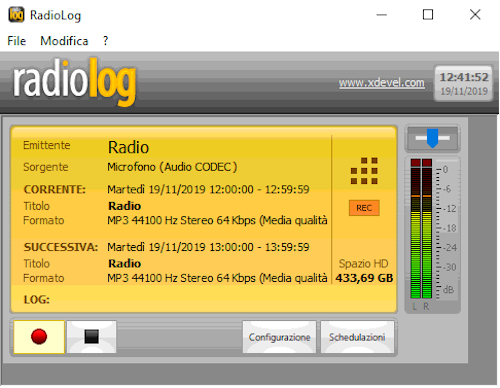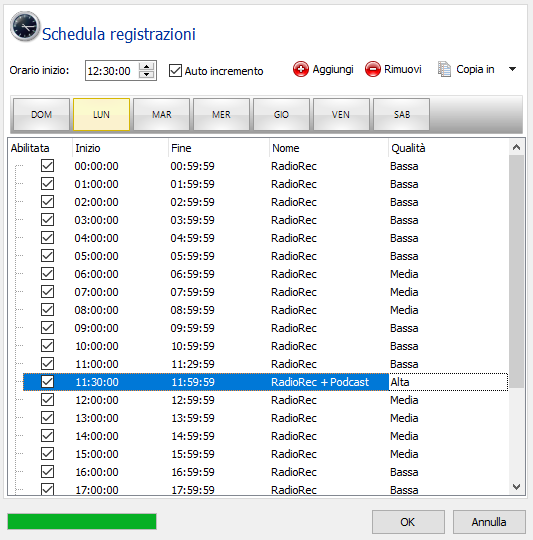 RadioLog allows you to schedule recordings with the possibility of differentiating time and quality of saving according to the weekly day. The recordings are conveniently soted into folders corresponding to each day saved.
System requirements
License
Support
System requirements
Operating system: Microsoft Windows 7 Professional Service Pack 1, Microsoft Windows 10 Pro
Sound card: Any *, with WDM driver and with a number of inputs equal to the number of recorders
provided
* for optimal use it is strictly recommended to use PCI or PCIe sound cards.
License
Support
Audio recorder with saving of the last 90 days of transmission.
Automatic removal of records older than 90/180 days.
"Auto-start" option at the start of the application.
Timed schedulings with the possibility to choose the recording quality for each one.